Back from Books at the Beach 2022!
September 17, 2022
I left home on Thursday after having lunch with my hubby at Panda Express to head to St. Pete's Beach, FL. I had one stop in between home and St. Pete's, but it was short, so I was happy. I finally landed in Tampa, FL (the closest airport to St. Pete's Beach) where I waited for Ali Lucia Sky to pick me up. Her hubby went all out and got us an SUV for all of our things and let me tell you, that thing was HUGE! When Ali first told me it was big, I was a little curious. But getting into the Jeep Wagoneer was like getting into a Hummer. There was so much room! But anywho… we got back to the hotel where I just wanted to flop on the bed and call it a night. I had been flying all day and airports always wipe me out.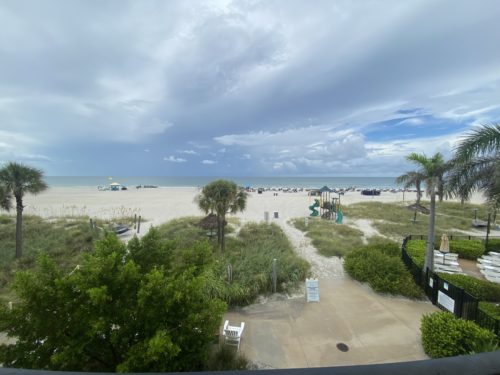 It was such a beautiful view from our hotel room. Mostly rain, clouds, and wind kept us company during our stay, but to me, it really wasn't that bad. Definitely a break from the 100+ degree heat I was coming from. St. Pete's Beach is such a calming place and I did everything possible to relax and work at the same time. On Friday, I attended a crafty get-together hosted by J.C. Layne. We made fairy jars and cutouts of fairies, stars, and flowers. I loved how we could decorate them however we wanted to and J.C. is an absolutely wonderful person. I had such a great time.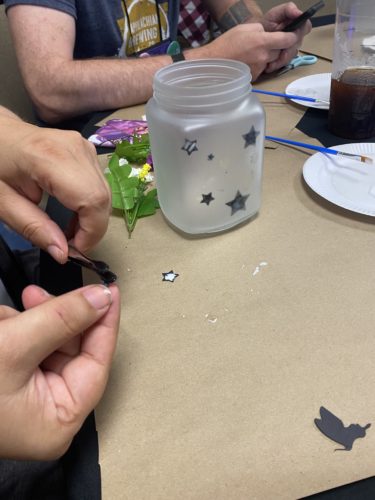 The rest of the day was more for readers to meet authors and attend panels. I went with Ali to hers. All of the panels that afternoon were affectionately known as "The Author Said What!?!?" We all laughed at all the questions the authors came up with, including Ali, for the host to ask readers that were in the audience. Some of the questions I would have never guessed came from that particular author, so I was quite shocked when some of them started giggling to themselves or their faces started turning red. Let me just tell you, if I want to play poker, I know which table to pick LOL. Later that night, we had the "Enchanted Garden Dinner for Authors, PAs, and VIPs. The scenery was so beautiful! Sheri Lyn, Cassidy O'Connor, Jennifer Wedmore, and Patti Spell really outdid themselves with all of the paper flowers, sparkling lights, and soothing ambiance of the room. I sat with J.C. Layne and her mom, along with other VIPs of the night. We laughed, got to know one another, and learned how we all came to love books. I am completely amazed by J.C. and her skills at making miniature sceneries inside lanterns. Ali and I took pictures in front of the flower wall, on the bench, and finally, we became fairies ourselves.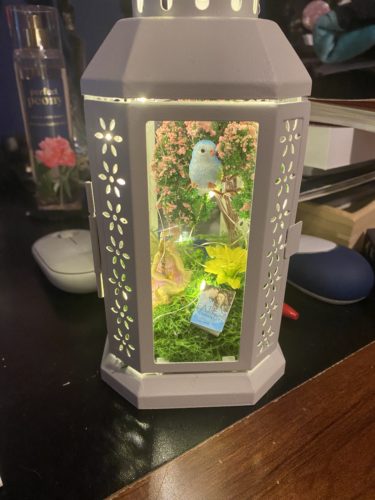 Saturday seemed to have come and gone. I had a full day starting with High Tea Brunch for Authors, PAs, and VIPs and ending with the signing. I went for a walk on the beach before it stormed again since it was going to be my last day in Florida. It was so refreshing to get out and listen to the waves, feel their warmth on my feet, and feel the sand under me. I picked up some interesting seashells and watched the seagulls along the beach. At brunch, I sat with Claire Ashlynn, Danica Graham, Pamela Ackerson, and her husband along with a few VIPs. Once again, we got to chat while we had a wonderful breakfast to which I was so jealous of everyone eating pancakes. Being gluten-free is not easy when everyone around you is eating all the foods you used to be able to eat. But that's the way life is right?
Next came the signing. I was nervous. I'm not sure why I was nervous, but I was. Ali and I sat at our table, chatted with readers and authors, and were able to see some really cool things people brought with them. Overall, it was awesome!
Sunday came too soon and I had to get up to get ready for the airport. In my usual fashion, I packed the night before (other than the things I would need that night and the next morning) so I could spend some time looking out onto the beach a little bit longer. The next thing I knew, I was at the airport to spend the next almost 12 hours jumping from airport to airport to airport to get back home. I can't wait to go back next year for BATB 2023!